NexentaStor, The Industry's Leading OpenStorage Solution, Named "Innovative Technology by Independent Jury of Experts"
13 December 2011 Source: www.nexenta.com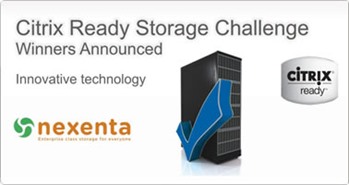 Nexenta® Systems, the world leader in OpenStorage solutions, today announced that the company received the "Innovative Technology" award from the Citrix Ready Storage Challenge based on its flagship solution, NexentaStor™.
The challenge was officiated by an independent group of Citrix executives and industry analysts, who judged NexentaStor against a number of other leading virtual desktop infrastructure (VDI) storage solutions. The honor is further evidence that Nexenta is changing the dynamics of the storage industry by delivering ideal solutions at an unmatched price that address enterprise and cloud service provider's biggest requirements, including primary storage, virtualized data centers and VDI deployments.
The Storage Challenge invited Citrix Ready partners to submit a brief video describing their technology, which was judged by an independent panel of experts, including industry analysts.
"Our win at the Citrix Ready Storage Challenge further demonstrates that NexentaStor is a game-changing product that is disrupting the storage market," said Evan Powell, CEO of Nexenta. "With data volumes skyrocketing, enterprises and cloud providers require storage products that will dramatically cut costs while increasing support for a wide array of compatible open standard technologies in their data center - and NexentaStor is emerging at the de facto choice."
Click here to view Nexenta's video on their winning product, NexentaStor™